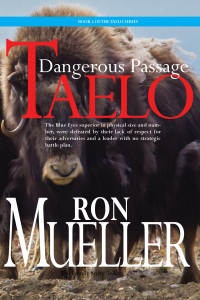 Dangerous Passage: A Taelo Series Novel
By Ron Mueller
The story of Taelo (Tā lo), talon of the eagle.  The eagle, Taelo's totem always makes its appearance at the critical and important moments.  Golden Hawk, Taelo's cousin is his best friend and partner in their many adventures.
All know when an eagle screams from the sky, something eventful was about to happen.
In Dangerous Passage the team travels across the northern ice bridge to the origin of their race.
The team has grown.  Broken Spear, the seer of the Others, has warned of the many trials the team will face.  The most dangerous is on the other side of the ice bridge and Broken Spear can not see what the danger is.
Taelo heeds the warnings of danger.  He engages his team in defining how they should face each danger.  The team simulate their response to each danger.  They practice as they travel.
The practice pays off, the team overcomes each challenge as it appears.
Then they meet the Sky Eyes the danger that could not be seen.  Taelo and his team face a force ten times their number.  Their self-defense practice, their battle plan strategy and Taelo's quick thinking lead to victory.
The weather and a new group of followers pose a new challenge.
The passage back across the ice bridge almost claims Taelo's life.
The dangerous pass takes its turn at pulling Taelo to the land of the Ancestors.
Read Taelo: The Early Years first, then
The Golden Feather then
Taelo: The Journey of Discovery  to better appreciate Dangerous Passage.
Check out the other books in the Taelo series: